Metro Manila traffic deeply problematic — US experts
By Richmond Mercurio (The Philippine Star) | Updated February 7, 2018 - 12:00am MANILA, Philippines — Manila's traffic situation has become "deeply problematic," visiting international infrastructure and design experts said yesterday.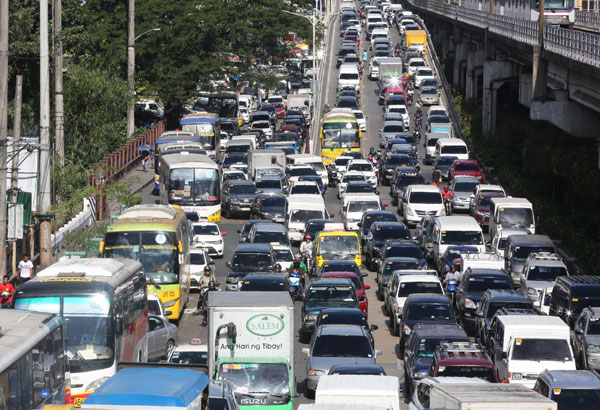 "If I have to stay four hours a day commuting, I don't know what I would do. So I think there is something deeply problematic about this question of traffic," said Mohsen Mostafavi, the dean and Alexander and Victoria Wiley professor at the Harvard Graduate School of Design, during the launch of Manila: Future Habitations, a program that seeks to provide solutions to Manila's constraints.
"Unfortunately, there are a lot of problems, but you are not alone. There are many people, which care about the entire Philippines. You can't fix the problem overnight. It takes maybe generations 'cause there were a lot of problems," added Sean Chiao, Asia Pacific president of international infrastructure firm AECOM.
Earlier, foreign business leaders in the Philippines warned that Manila and key cities are on their way to becoming "uninhabitable" due to the worsening traffic situation.
Traffic jams are caused by lack of transport infrastructure and the rising number of new vehicles added to the roads yearly.
"If you really have this incredible growth in population, you need to invest in infrastructure. Investing in infrastructure, of course, does not just mean investing in new roads. Investing in infrastructure means having trains, subways, and having multiple means of getting from one place to another," Mostafavi said.
Mostafavi also said the Philippines should realize that no single developer would be able solve Manila's traffic problem, and even the government cannot do it by itself.
"You have to have a framework established by various agencies and then the developments by private developers engage and transform those framework," he said.
"Part of what is needed is that sometimes in the best cases, cities have their own architects planning departments. And the importance of those entities is they come up with recommendations, suggestions and visions which represent the interests of the public, the interests of the citizens," he added.
For Chiao, there are signs of life for Manila given the current administration's aggressive infrastructure development program.
"You're building new roads. There's a plan, connectivity, and vision. In my point of view, I always like to remain hopeful because I believe the Philippines is a wonderful country, with wonderful people and wonderful culture," he said.
"Manila has so much potential to become a global city," he added.
AECOM and the Harvard University Graduate School of Design launched the program Manila: Future Habitations to examine new approaches to endemic problems by inspiring new ideas for better design for 21st century resiliency, sustainability and livability.
The program entails a six-month academic exploration to provide solutions to Manila's worsening traffic situation.
"Contemporary Greater Metro Manila, with a population of more than 25 million, is by far the largest city in our three-year series on Southeast Asia and arguably the most complex, with vast extremes of economic and social strata, and yet universal challenges for its citizens, such as mobility, improved ecology and connectivity," Mostafavi said.
Source: http://www.philstar.com
Document Actions