Ash, clouds block Duterte's view of Mayon Volcano
By Celso Amo (The Philippine Star) | Updated January 31, 2018 - 12:00am LEGAZPI CITY, Philippines — President Duterte, on board a helicopter last Monday afternoon, flew toward Mayon Volcano to see for himself the majestic and terrifying beauty of Albay's top tourist attraction.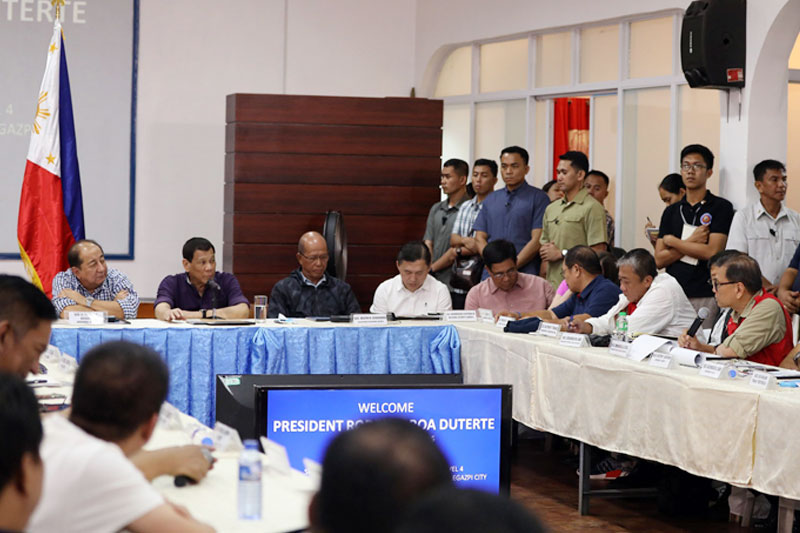 But Duterte saw only cloudy skies over the volcano.
He arrived at the Philippine National Police (PNP) regional headquarters at Camp General Simeon Ola at 3:51 p.m. and immediately presided over the situation briefing on Mayon.
The President said he wanted to witness Mayon's ongoing eruption since all he had seen was from the Facebook posts of Albay Rep. Joey Salceda, whom he asked to join him for the aerial survey of the volcano.
"I will try to stay awhile maybe until 6 o'clock and see if I can have a view of lava," the President said during the briefing with Albay Gov. Al Francis Bichara and other government officials at the Multi-Purpose Building of the PNP.
Duterte asked Department of Science and Technology undersecretary and Philippine Institute of Volcanology and Seismology (Phivolcs) director Renato Solidum if it was safe to get closer to the volcano.
Headlines ( Article MRec ), pagematch: 1, sectionmatch: 1
"There's no explosion. (Thick clouds cover) the volcano" while lava continued to flow from the crater at night and could be seen if the weather was clear, Solidum told the President.
Duterte recalled his press briefing before his departure to India last Jan. 24 for the Association of Southeast Asian Nations-India Special Commemorative Summit.
"While I was speaking at the airport I told a child who was around that if he sees Miss Mayon he should tell the volcano that I am angry," the President said in Filipino.
He also joked about Presidential Communications Operations Office assistant secretary Mocha Uson's much-ridiculed mistake about Mayon's location. Uson had apologized for the gaffe.
"I wish all the active volcanoes in the Philippines do not explode at the same time – if Mayon Volcano will be accompanied by Mount Apo, there will be a big problem," he said, referring to the Phivolcs report last Jan. 17 that volcanic quakes were recorded at Bulusan Volcano in Sorsogon and Kanlaon Volcano in Negros Island.
Bulusan, which is around 70 kilometers southeast of Mayon, showed "low to moderate levels of unrest with fair probability of more explosions," Phivolcs has reported.
However, Duterte said the last time Apo acted up was when he was still in high school.
The President last Monday provided an initial P25 million and promised to have it augmented to P50 million for the food and sanitation needs of 82,347 evacuees.
Damage to agriculture in areas affected by the continuous activity of Mayon has reached P165.54 million, the Department of Agriculture (DA) said, covering 8,138 hectares with an estimated 36,023 metric tons (MT) production loss and affecting 8,300 farmers.
Bulk of the damage was in the rice sector at P140 million affecting 6,380 hectares, equivalent to 61 percent of the total standing crop of 10,399 hectares.
The losses were due to the effect of ash fall on the leaves and newly planted rice crops.
Damage to high value crops was at P21 million affecting 1,049 hectares with a volume of 36,032 MT. – With Louise Maureen Simeon
Source: http://www.philstar.com
Document Actions