Permanent relocation sought for families displaced by Mayon Volcano
LEGAZPI CITY, Philippines — A local official is seeking the relocation of close to 3,000 families living within the six-kilometer permanent danger zone of Mayon Volcano and to declare it a no-settlement area.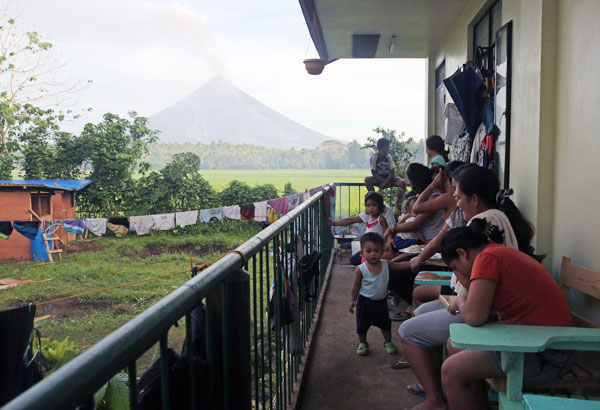 Evacuees looks at the Mayon Volcano at the evacuation center in Daraga, Albay Province on Thursday, February 01, 2018. KJ Rosales
Cedric Daep, Albay Public Safety and Emergency Management Office (APSEMO) chief, said "Mayon is classified as a sudden natural hazard with or without precursor," emphasizing the risk to those entering the danger zone.
"We need Congress to enact a law to relocate those staying inside the permanent danger zone," Daep said.
Albay Rep. Joey Salceda, when he was still governor, placed the cost of relocating the 2,889 families who have houses inside the danger zone at P360 million.
Twenty-five years ago, Daep said the volcano suddenly exploded twice without warning, killing 72 farmers from Barangays Mabinit and Buyuan who were tilling their farms inside the danger zone.
"There was no existing alert level that time when the volcano without warning had a sudden sectoral collapse at the southeast quadrant," Daep said.
Headlines ( Article MRec ), pagematch: 1, sectionmatch: 1
The phreatic explosion occured at 11 a.m. and 1:11 p.m. on Feb. 3, 1993.
Daep recalled 104 persons were hit by pyroclastic density current and 77 of them, mostly farmers, died, including five orchid pickers.
But intelligence report from the Philippine National Police said 15 of those farmers who died were New People's Army (NPA) rebels.
One of the lucky survivors was Veronica Perez of Buyuan, but the volcano left a triangular scar on her back.
At present, Daep said most of Mayon's explosions can be predicted due to the daily monitoring by scientific instruments of the Philippine Institute of Volcanology and Seismology (Phivolcs) around the 2,462-meter volcano.
"But we have no control whatsoever for the volcano not to erupt," he said.
Defense Secretary Delfin Lorenzana proposed the declaration of the six-kilometer permanent danger zone as a no-man's-land and part of Mayon Natural Park during a meeting with local and national officials with President Duterte at Camp General Simeon Ola last Jan. 30.
But Duterte said if the land inside the zone is privately owned and titled the government has to expropriate the property first.
"But you know if the government expropriates barat man talaga (for the cheapest price) then you create a social problem again," the President said.
"So we can be sure that all are in accord with what is good for public interest, we would be happy to do that. But the first thing they have to find out is what would be the solution of people who are there tilling the land which they own and are titled in their name," he explained.
"I go for it," Duterte added.
Sporadic and weak lava fountaining and continuous degassing from the summit crater characterized Mayon's activity on Wednesday, according to Phivolcs.
Authorties also reproted the following: much of the activity produced low white to light-gray plumes, with the exception of five events that produced 1,000-meter tall gray ash plumes between 8:13 a.m. and 11:56 a.m., at 6:01 p.m. and 9:37 p.m.
Four episodes of lava-collapse pyroclastic density current or PDC events occurred between 9:53 a.m. and 5:50 p.m. and emplaced PDCs on the Miisi, Basud and Bonga gullies within two kilometers of the summit crater.
Loud booming sounds between 10:55 a.m. and 12:26 p.m. that could be heard 10 kilometers away were generated along with bursts of steam-laden plumes from the summit crater.
SOURCE: http://www.philstar.com/headlines/2018/02/02/1783822/permanent-relocation-sought-families-displaced-mayon-volcano
Document Actions